The team at Electra Sign had been shopping around for months to find the right team to partner up with for a website redesign.
Electra Sign produces hand finished, quality signage for local and national brand locations, serving Canada from the West. They knew that their old website and online presence needed an overhaul, and that they were missing out on valuable leads.
They wanted to showcase their new projects in a beautiful way, and create effective sales funnels within their website to match their renowned customer service and consultative approach to doing business.
After Electra Sign met with us, we were flattered when they said that we just "got" them.
We listened and consulted with them to come up with the best plan of action, which included the following:
Content update
Light brand refresh
Design overhaul
Responsive web development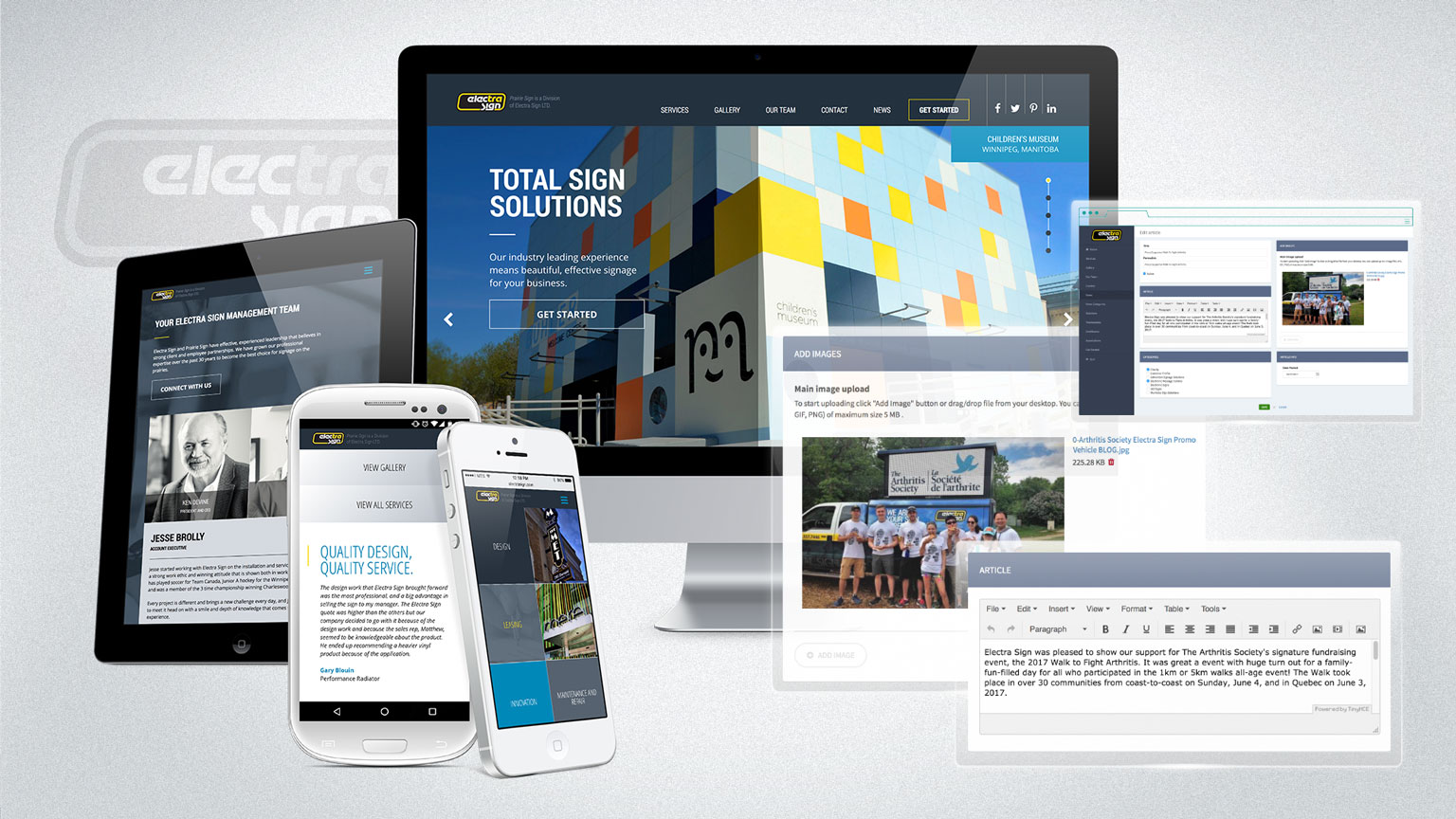 CONTENT

Our team dove into Electra Sign's current website content. It offered solid technical details about sign options, but needed to explain the benefits of each choice more clearly. We learned a lot about LED signage, and Kieran, our strategist, is convinced that he'll choose that bright, energy efficient option for his sign if he ever starts his own video game dance club.
Electra Sign was also looking for a real hook for people to connect to their business. They wanted a tagline that was in line with their straight shooting sensibilities.
We are your sign experts. Serving Canada from the West.
DESIGN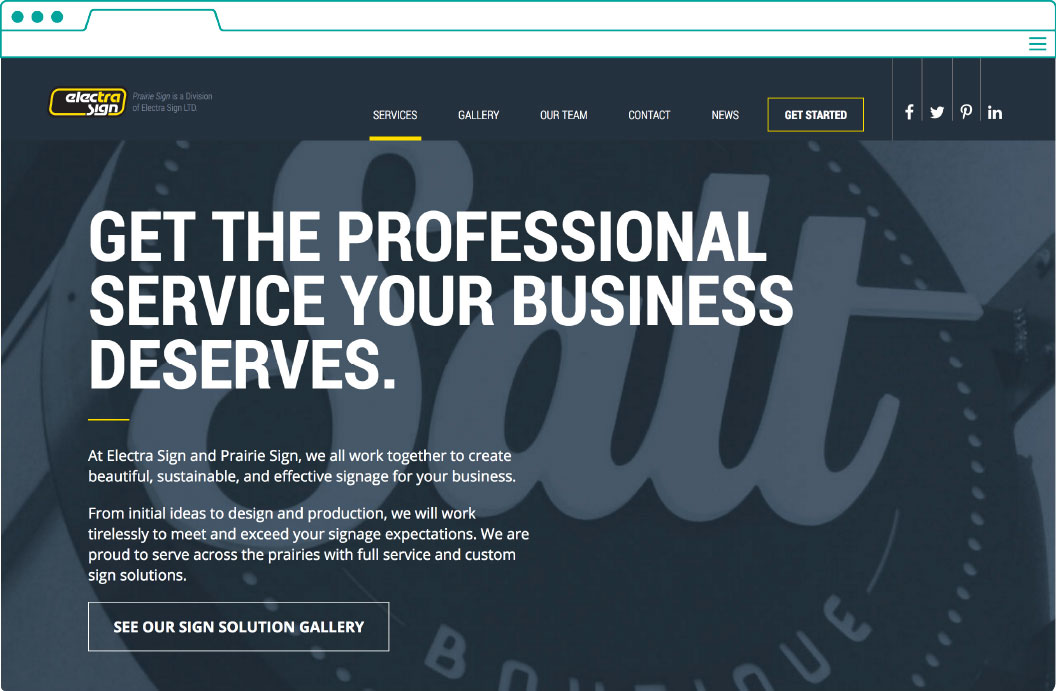 The design aesthetic of the Electra Sign website didn't match the quality of the creative work they do for every sign they build. Electra Sign wanted a modern update, with an enhanced colour palette and a bigger focus on the amazing signs they create.
Aaron, our Creative Director, dialed in on supporting blues and greys to back up the strong black and yellow of their logo. This let the truly important bits of information be highlighted by yellow, and really drive the eye.
Inspired by the panels of electronic displays and the visibility of outdoor signage, Aaron and the design team made each sign, and it's supporting information, stand out.
These panels gently guide the user from sign to sign, and finally, towards very enticing calls to action.
The design and subtle brand update put together by Avenue 4 have now made their way into promotional material used by Electra Sign, and has invigorated the look and feel of the brand.
WEB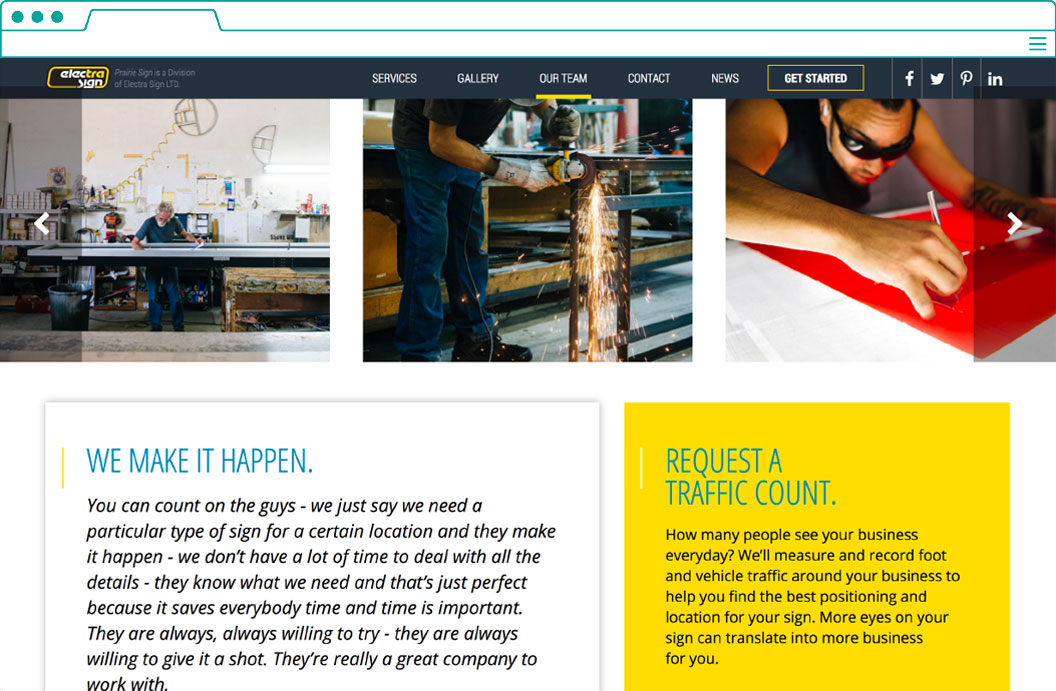 Fully responsive, mobile friendly, and lightning fast.
That doesn't just describe the new Electra Sign website, it describes Alex, Curt, and the rest of the development team too.
With subtle animation and rollover effects, coupled with an innovative gallery that highlights the beautiful signs and the technological features behind them, the Electra Sign website is a sight to behold.
Working closely with the design team and content, this site evolved from sketches into something fully functional, and very user friendly.
Every interaction is guided by a question a user might have, or hasn't thought to ask yet.
The website also incorporates the old news and blog feature of the previous Electra Sign site, updating the look and feel. We brought their old posts over too, and gave them a new solution for easily uploading new photos, information, news, and more.
‍PARTNERS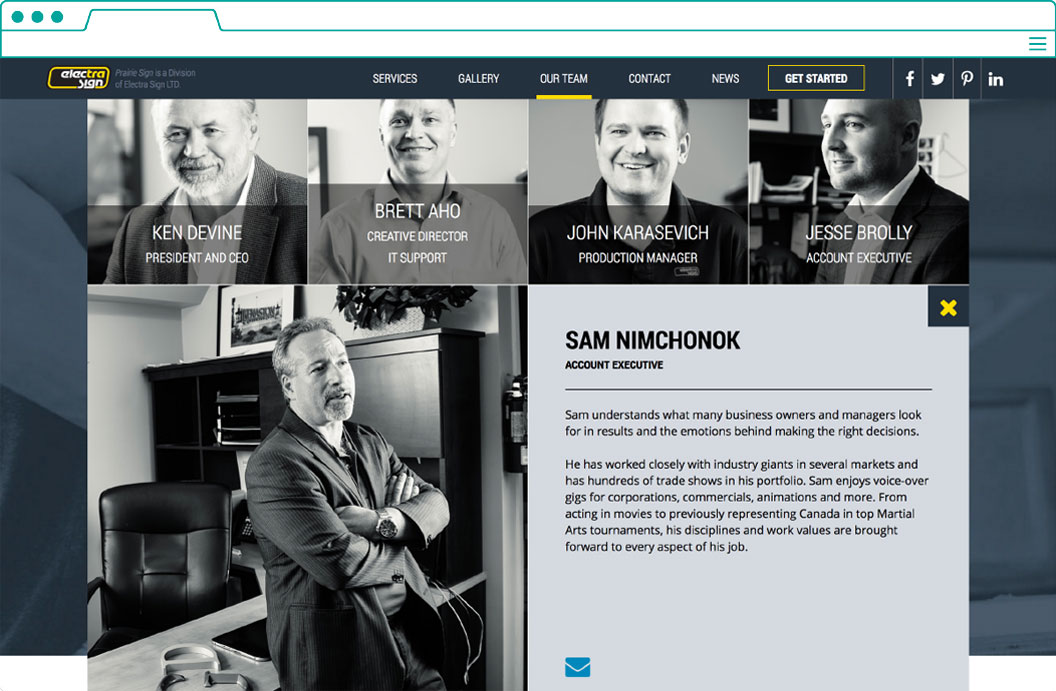 Working with Electra Sign has been an awesome experience, and the perfect illustration of how partnership with Avenue 4 leads to results through positive relationships.
The Electra Sign team is friendly and enthusiastic about the work they do, even bringing their electronic messaging truck over to our building to show off some of our work on their screens.
We're looking forward to you checking out their beautiful, effective outdoor signage on their new website, built by Avenue 4.