How We Almost Doubled Yellowquill College Admission Leads Using Facebook Lead Advertising
As school let out for the summer, Yellowquill College came to us to see how they could increase enrollment in several of their fall programs. They wanted to see more engagement with their website and Facebook page, and get more students in the door.
Each program is framed by Indigenous philosophies and integrates Indigenous culture and language.
That's the unique value proposition of Yellowquill College: Building skills that benefit you and the community, taught with an Indigenous perspective.
To reach local Indigenous audiences where they were most active, we knew that Facebook Lead Advertisements would be an effective tool.
We were still blown away by the results.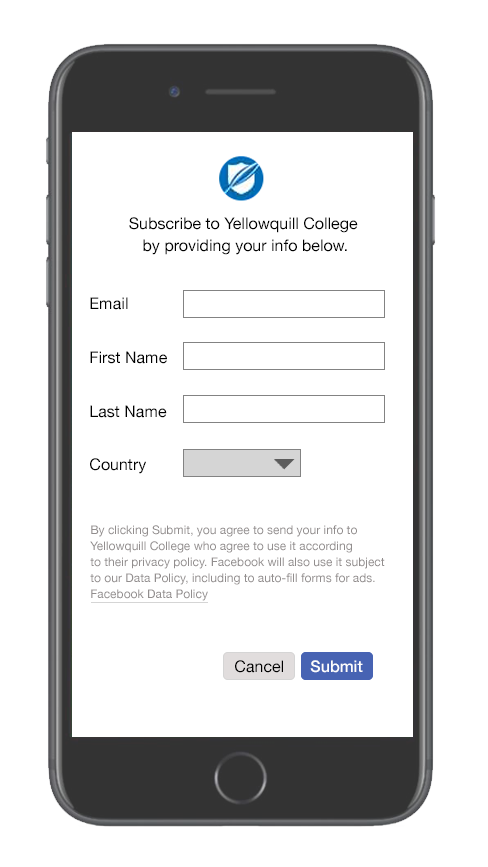 What are Facebook Lead Ads?
Facebook Lead Ads let you advertise without your prospects ever having to leave Facebook.
Potential customers can sign up for what you're offering, and you'll get accurate contact info to follow up with them.
By clicking your lead ad, customers will see a form that's already filled with info they've shared with Facebook—like their name, number, or email.
The form is mobile-device friendly and designed for the least amount of typing possible. So it's quicker for customers to reach you—and gives you accurate, actionable info so you can reach back.

Setting Goals For Success For Yellowquill College
We created goals, or key performance indicators (KPIs) to measure our results for Yellowquill College.
In digital marketing, we like to focus on specific goals that aren't just vanity metrics. That means we go for KPIs that have a real effect on your bottom line, where we can demonstrate a return on your investment.
Two of these goals were quite defined, and one was broader, because it's tough to gauge community engagement on a brand new Facebook page without baseline data.
Goals
Generate qualified leads for the three programs in Winnipeg and surrounding area
Grow the likes and followers of the page from zero to over 200 in the first month
Create awareness of Yellowquill College programs through engagement and sharing
Challenges
Modest budget
Growing a Facebook page from scratch while building trust for advertising
Small window for client education on how to handle incoming leads
Analytics and tracking had yet to be implemented on the Yellowquill College website
We knew we could overcome these challenges by focusing our efforts on lead capture and appealing to students looking to finish high school, and their supportive families.
Finishing high school is an important educational milestone that opens up so many more possibilities for getting a job and further education. Leveraging that pride and sense of accomplishment was something we believed would help increase the visibility of our advertisements while keeping us within the budget.
What Facebook Ads Did We Create To Get The Most Leads?
Facebook has a phenomenal amount and depth of tools available for creating ads that can be engaging for any audience.
We created advertising sets for each program featuring:
Images with lead capture
Video slideshows with lead capture
Images with captions showing program benefits that linked to the Yellowquill website
We saw the most community engagement from the video slideshow, but also a lot of conversions from the Facebook Lead Ads.
Video slideshows are simple way to turn a series of still images into one of the highest performing types of Facebook advertisements without blowing your budget on full video production.
We're always diving deeper into the advertising tools that Facebook has to offer to get the most effective results for our clients.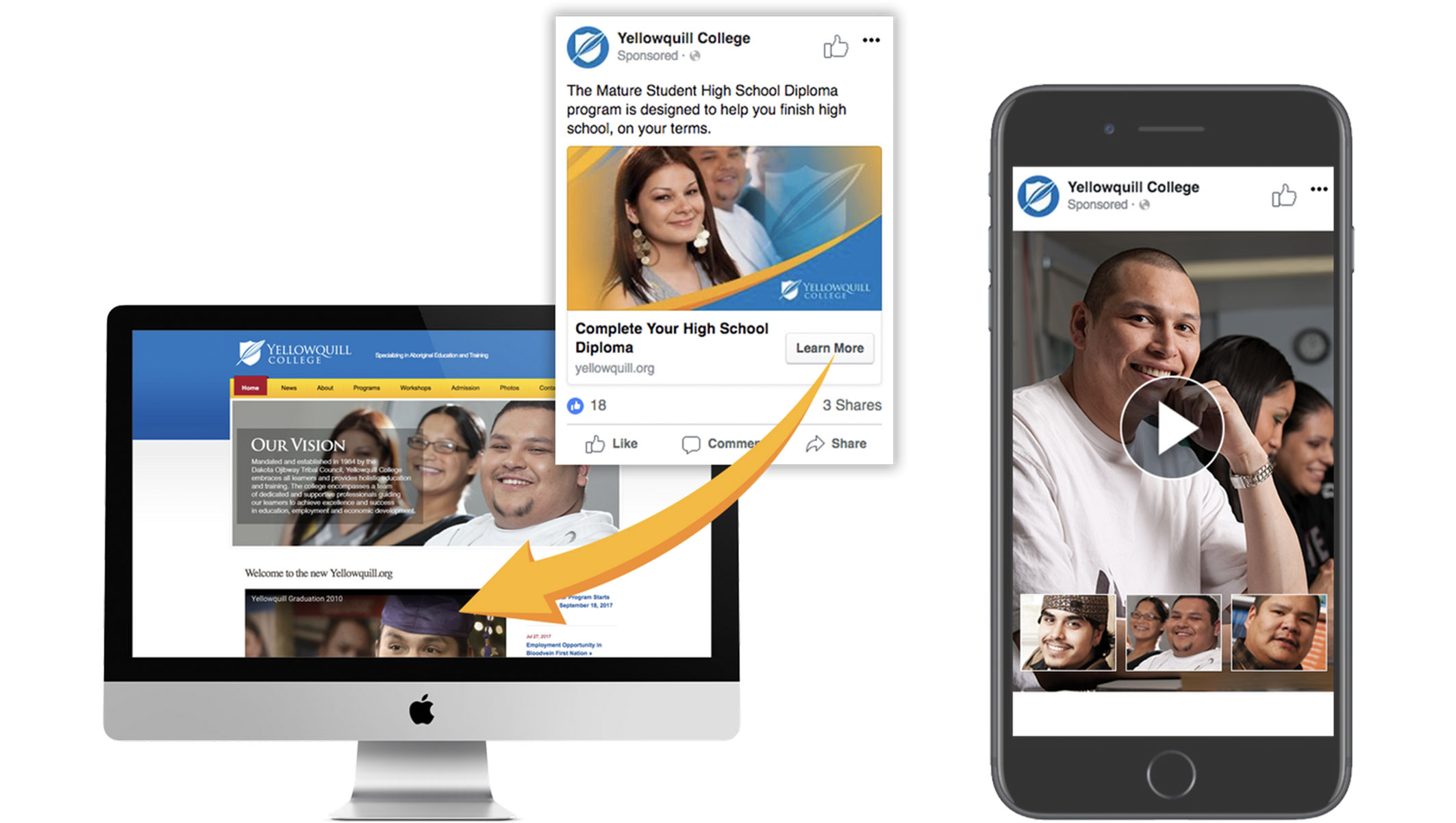 Facebook Lead Ads For The Win
The best thing about Facebook Lead Ads is that the leads are highly qualified.
People interact with these ads using their real names and real contact information that is coming directly from Facebook.
We did extra follow-up to make sure that these people were not only going to be interested, but we extrapolated where their careers might be helped based on what lead capture from they filled out.
We saw a secretaries and administrative assistants looking to level up their career with a First Nation Management and Administration Diploma.
We saw people who had not finished high school posting about finally getting their diploma and sharing the Mature Student High School Diploma advertisement on their public Facebook pages.
We even saw people with interests that covered financial publications like Bloomberg who only had generic high school/university time listed on their public profiles leaving their information for contact about the Certified Aboriginal Financial Manager Diploma.
To help get the Yellowquill College Facebook page off the ground we ran a page likes promotion for the first 3 weeks, but quickly saw even more likes were being generated by the engagement from our lead ads and program advertisements.
Without spending any more of the budget to promote the page, we hit 390 page likes in just a few days of people sharing advertisements related to the page!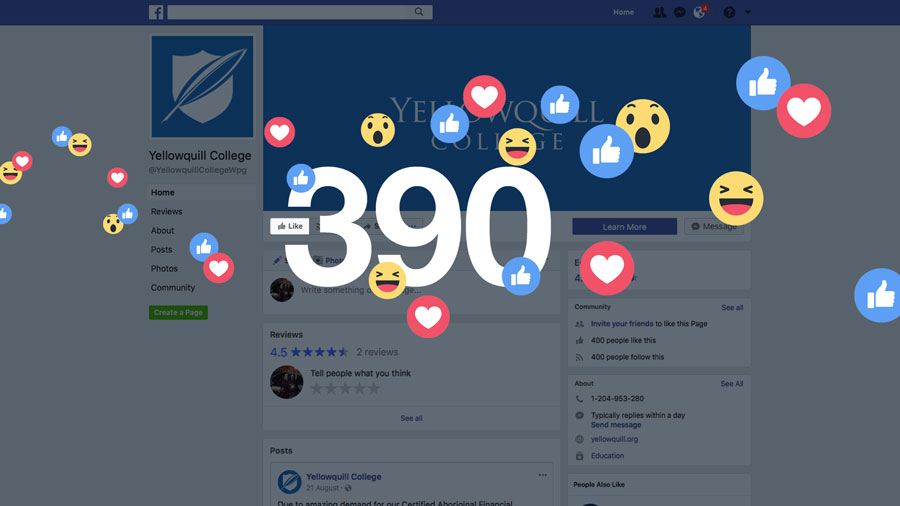 Real Results That Have An Impact On Your Business
We worked with Yellowquill to make sure they had a strategy to contact and connect with the, as one member of our sales team called them, "piping hot leads" as they came in.
Because of demand generated for the programs, Yellowquill College posted two new job opportunities for instructors to handle incoming students.
There was a real sense of community that emerged around the engagement in the Yellowquill College lead advertisements.
People were tagging their friends and family and sharing the post, growing awareness and building connections above and beyond what the original marketing budget allowed.
We were delivering results to Yellowquill College throughout the entire campaign, and when it completed we broke down their reports by what we spent on the digital marketing campaigns, and all the impressions, engagements, and leads they got.
Facebook Lead Ads brought real results to Yellowquill College, and they can bring real results to your business too.